Friday, November 21, 2008
Labels: movie thoughts
38 comments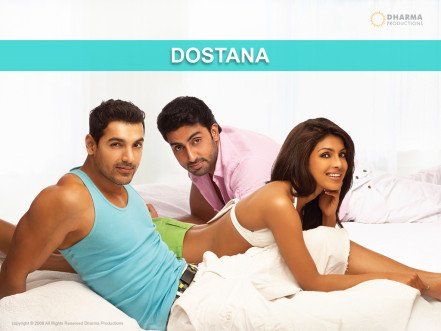 "

I know exactly the tone I wanted, they (gays) did not need to be effeminate.

"
Words
of
Karan Johar
, the producer of much hyped movie,
Dostana
.
Dostana
is a story of two guys,
Sameer
(
Abhishek Bachan
) and
Kunal
(
John Abraham
) pretending to be gay lovers so that they can live in an apartment with owner's niece,
Neha
(
Priyanka Chopra
). Yeah, a
I Now Pronounce You Chuck And Larry
- kinda deal. Karan even proceeds to say that he didn't feature the stereotypical gay flamboyance in this movie.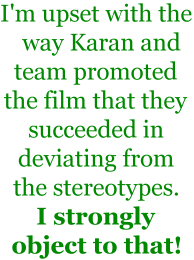 Alright. Let me ask you Karan, by giving that statement, were you trying to state that you didn't portray gays as sari-clad men? Or that your non-stereotyped gays weren't wearing any sparkling outfits? Is that all you meant? If so, lemme tell you dear, get out of that shallow well and understand what the actual stereotypical gay flamboyance is! But for a man working in an industry where you often get to meet homosexuals, I know you exactly understand how gays are being stereotyped.
Karan Johar adds,
"

Even within the fun and games, handling it sensitively is a challenge. If we offend even one member of the homosexual community, it will really disturb me.

"
I just want to bark at you Karan, aren't you ashamed of telling outright lies such as
Dostana
being sensitive to the gay community? Okay, I get it, the jokes and the gayish actions were meant only for fun. But why do you have to put on such blatant lies? To attract gay audience? Wasn't John's butt enough for that? You have offended me. But I know you are least bothered since you are busy licking your
moolah
!

I'm not upset about the two male leads showing exaggerated actions or Abhishek's running during his Venice-narration or even about the one whole song that suggests being gay is bad.
Sameer
and
Kunal
were straight and probably any straight guy would also do such embellished actions if he wanted to desperately convince others that he is gay. I'm upset with the way Karan and team promoted the film that they succeeded in deviating from the stereotypes.
I strongly object to that!
If they could have added at least one scene where
Sameer
,
Kunal
and
Neha
saw two regular guys who were totally in love with each other in that Miami crowd, so as to make the audience realize, "Oh gays could be like that too!", I would never have taken all these troubles to trash this "ice-breaking" movie.
If gays indeed behaved all flamboyant, why would guys like me always complain about not possessing a
gaydar
? I could just look at a guy and think, "Oh he is acting flamboyant. He is gay!" That even a straight person can figure out, no need of any
gaydar
. Duh!
And it surprises me that lot of Indian gays take pride in getting homosexuality featured through this film. True, this movie initiated discussion among the public, more than what when the news of disagreements between Health Minister, Anbumani Ramadoss and Home Minister,
Shivraj Patil on legalizing homosexuality hit the media. But this was definitely not the correct way to get that discussion initiated. You comfort yourself that since this is a comedy film, it is okay.
Guys! Wake up and smell that stinking muck!!
When you laugh at the comicality, the whole world is laughing at you! One of my colleagues said to me, "Did you see
Dostana
? I mean, do guys really behave that gross if they are gay?" Way to go Karan, way to go!! You just succeeded in creating more homophobes. I thank all my Gods for not making my parents come with me to watch this. I seriously don't want them to associate me with any of these
Dostana
-characters when I come out to them.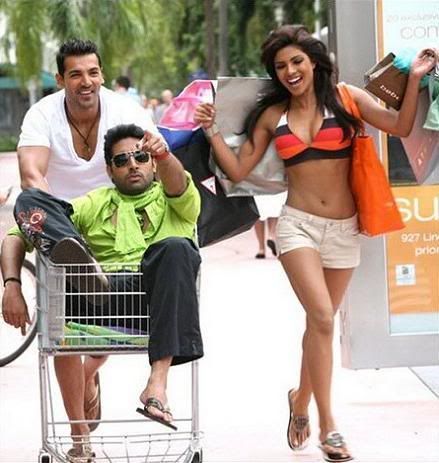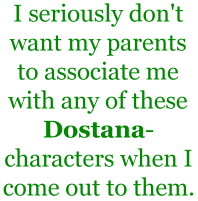 If you ask which movies I would want my parents to see, currently my picks are
Mambo Italiano
and
A Love To Hide
. The parental situations shown in
Mambo Italiano
are very much similar to an Indian scenario. It is a funny light-hearted movie, but not making fun of gays! (
Now all you Karans out there, please don't get "inspired" to make this in Hindi!
) And after they are comfortable with the whole homosexuality deal, I would want them to watch
A Love To Hide
. This is indeed a strong powerful heart-wrenching movie. I watched it last year and never had the strength to watch it a second time.
So finally this is Sam's verdict:
Dostana
does not at all succeed in deviating from the gay stereotypes. Even if homosexuality gets legalized in India, movies like
Dostana
claiming to be liberated from stereotypes may cause blockage for the social acceptance of gays. You may watch it for
Shilpa Shetty
's friggin hot body, Abhishek's superb acting, John Abraham's "coin-slot", Priyanka's beautiful face and the laughs at the comical scenes,
but that's it!
Check out these related posts too!
Taare Zameen Par
Mambo Italiano
Bhool Bhulaiyaa