Saturday, July 21, 2012
Labels: music is god
2 comments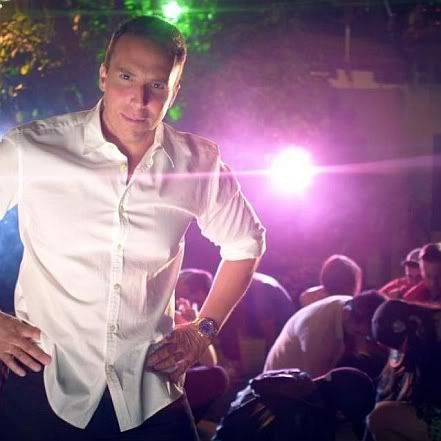 When Danny Rose decided to propose to his boyfriend Aaron to take their relationship to the next level, he wanted the experience to be something that reflected their three years of togetherness. He wrote a song and made a music video with hints of moments that they had shared while seeing each other. Aaron had no clue of what was about to happen when Danny escorted him to their backyard for presenting the proposal video. Needless to say, Aaron was completely shocked. After the video, Danny got down on one knee and asked Aaron to spend his life with him.
The video went viral soon after Danny uploaded it on YouTube. Titled 'What Are We Waiting For', this one is a catchy dance-pop track with 'Glee'-style choreography which will get you hooked and make you watch it in repeat mode. I myself have lost count of how many times I have watched it again and again ever since Danny shared the link with me a few days ago.


Email subscribers will have to visit the blog site to watch the video.
Danny thinks it's important for people to see the faces of gay marriage. To support the cause of marriage equality, he has put the song up for sale on iTunes and is donating 100 percent of the profits to marriage equality charities.
In an interview with CSB, Danny Rose who is the producer for television shows for ABC Studios, shares his experience on the making of 'What Are We Waiting For', how he met the love of his life, the wedding plans and the much yearning visit to India.


Crazy Sam: How did the idea of this video come about?
Danny Rose: The idea came about last November. I knew I was going to ask him to marry me, but I wanted something that was very "us". Our lives are centered around family, friends, music and comedy. I also always wanted to try and write a song. So I put the two together and gave it a whirl. Jamie Jackson helped me with the music. She is a work colleague and I always thought she was so talented.
CS: How did you meet your boyfriend and how long have you been dating each other?
DR: Aaron and I have known each other for over 4 years but have been together for three. We were introduced through common friends at a bar and neither of us made a move until over a year later. We would see each other out sometimes and eventually became Facebook friends. Then one day we both happened to be traveling to NYC and ended up hanging out together on a non date one night there. Well it evidently was a date and we've been together since.


CS: What was Aaron's reaction when he saw the video?
DR: SHOCKED. He had no idea what was happening. I had the video set up in the backyard on a large screen and a whole sound system. I had about 300 scented candles burning. My goal was to attack all the senses. I made him put on a tuxedo and we had champagne while I escorted him to the backyard. He saw the screen and thought I made a home video slideshow of our life together. Then as the video started, he said, umm thats you! Then he said NO WAY! Did you write this? I can't believe you did this!! Once he grasped what was going on, he wanted to start it over but I said we would just watch it over again. And again. And again. I got down on one knee when it was over, asked him to make the happiest man in the world and spend his life with me.


CS: When is the wedding happening?
DR: We are 3 months away.. October 20th in Los Angeles. It's not exactly legal yet in CA, but it's not stopping us spiritually and culturally.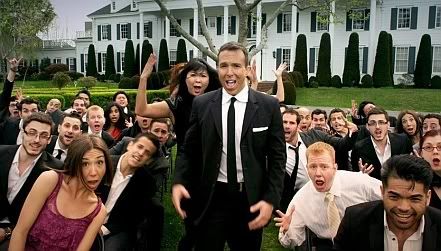 "Let's head on down the -- WHAT??" - A still from the m
usic video

CS: Heard this video went viral, how did you feel?
DR: I was excited. The feedback was so positive and gay marriage is such a hot button everywhere, I was pleased this video brought joy to so many people both gay and straight. I get the most comments and accolades from moms with kids. I get videos of kids dancing to the song all the time. Makes me very happy.


CS: Any plans to come up with new songs?
DR: I am not in the music business. I work in the television industry. I produce television shows for ABC studios and the last years have been spent on the shows called SCRUBS and COUGAR TOWN. (I am also developing more shows and some of them have big musical elements. So stay tuned on my twitter: @DannyRoseinLA.) But I have been giving thought to doing another song. The process was so much fun and so creative, and the collaboration really was magical. So I am anxious to try another. Even if it's just for me.
CS: I read that there are lot of inside jokes shown in the vid, could you reveal some of them?
DR: Some are not inside jokes; some are lines that are triggers.. "I like the way you look at me" I would always say that to him. The eyes can't lie. I see love in his eyes when he looks at me. That is where I started with the song. One of the jokes was "Let's head on down the --" I didn't say aisle. I said WHAT?? It's so strange growing up gay, and to be honest, never thinking that the words wedding, fiancé, husband, etc etc would ever be part of my life. There are a few more in there too. One Justin Bieber lyric that was popular at a time we started getting serious.


CS: I'm sure there is a history behind your robot moves shown in the vid.
DR: Yes there is a history of breaking out the robot moves that always made us laugh. So I had to put that in the video knowing it would get a big reaction from him.


CS: So have you been to India? Any plans to visit the country?
DR: Neither of us have been to India. It's high on our list! I have always wanted to visit and have heard it's the most gorgeous place. Hopefully in the next few years before we get into the children planning.


And finally here is a photo of the lucky couple, Danny with his soul-mate Aaron. Thanks Danny for sharing!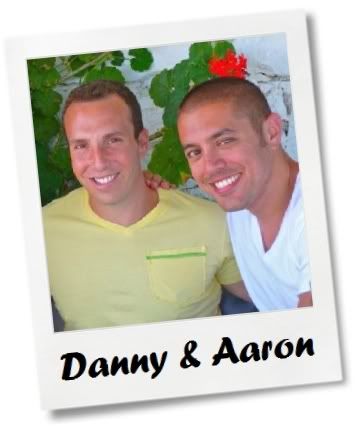 Check out these related posts too!
When Music Wins You Over
The Crazy Sam Musical