Wednesday, November 27, 2013
Labels: csb promotion
0 comments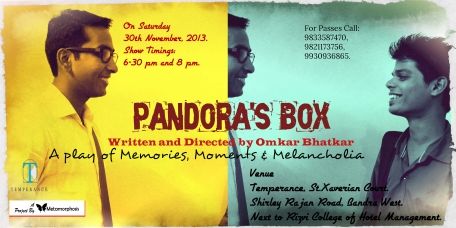 It's not that often we get to see plays touching upon gay theme. But a group of young budding amateur artists will be showcasing their latest play - 'Pandora's Box', this Saturday in Mumbai, which aims to present the universal theme of love from a queer perspective. This young team calls themselves Metamorphosis to express art in different forms but with a meaning and perspective, and to deconstruct the stereotypes and norms. Pandora's Box is the team's second outing after the success of their debut play - Quest, which had run to packed audience.
The plot of Pandora's Box revolves around the randomness of life and exploring different forms of love – the one that is innocent, the one that is a fairy tale, the one that has a thought behind, the one that vacillates between friendship and commitment, and the one that results out of loneliness and seclusion. The protagonist spends a particular night contemplating and reminiscing about the days long gone by. And as he looks back into his past, the letters, calendars, pictures and posters all come to life making him recall the good and the bad.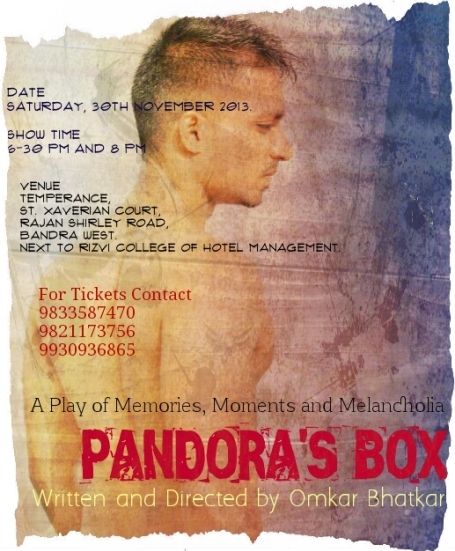 Omkar Bhatkar who has written, directed and also acted in Pandora's Box feels that he is taking a risk by venturing into a topic that could be palatable to only a few. He says, "To even think of writing Pandora's Box was very challenging. Already the audience who watches theatre plays is niche and then you write a play from a queer perspective. So how many would really like to invest that kind of time, effort and money to watch such plays? But I believe it's an important story that needs to be told even if there are only few people willing to witness it."
The team staged a raw version of Pandora's Box at auditions for Thespo, an annual youth theatre festival and they were pleasantly surprised to see that it had moved several members of the audience to tears. Judging from the reviews received, the cast and crew realized that this play was meant for everyone. "Eventually it's a universal theme of love. It can be presented from a queer perspective, but also can be easily identified from any perspective," Omkar opines.
The team Metamorphosis comprises of medical students, engineers, architects, models as well as theatre actors. But what brings these people of different occupations and backgrounds is their passion for acting and theatre.
Pandora's Box will be staged this Saturday, November 30th at Temperence, Next to Rizvi College of Hotel Management, Bandra West, Mumbai.
The play performance is restricted to an adult audience.
For Tickets:
The tickets are priced at Rs. 200/- for 6:30 p.m. and 8 p.m. show.
You can call 09833587470, 09821173756, 09930936865 for tickets.
Tickets can also be collected from the venue till Friday between 10 a.m. and 5 p.m.
Check out these related posts too!
CSB Promotion - Chennai Rainbow Festival 2013
CSB Promotion - KASHISH Mumbai International Queer Film Festival 2013
CSB Promotion: Queer Ink Offer For CSB Readers!