Monday, February 23, 2009
Labels: hunk spotted
10 comments
Even though

Farhan Khan

was the cover guy on the November issue of

Men's Health India

last year, it seems now only his hunk-effect is spreading contagiously over the gay
Orkutsphere
when guys are busy adding his photo shoot video to their profiles.
The following video is available in
HD
(
press

to enable
) which means, you can put it full-screen (
press

) without losing much clarity!
I know with a body like that, it's kinda difficult to focus on his face.. which by the way, is equally worthy to get every ounce of our attention.
I especially liked his advice on quitting cigars to achieve a smoking body like his. In fact taking puffs is not only unhealthy, but also a mood-killer when you are passionately entangled in kissing. One time I was with a guy and during the whole make out session, the only thing I could think was how charred his tongue tasted! So that's it! Never again I'm gonna kiss a smoker!
By the way, the photographer fella is

Subi Samuel

and he is one of the busiest Indian photographers. They say he is a man of few words, but his photography is one that speaks for itself. The end result of this photo shoot as you can see below, is a testament for that.

Click on them to fill your screens with our yummy
Farhan Khan!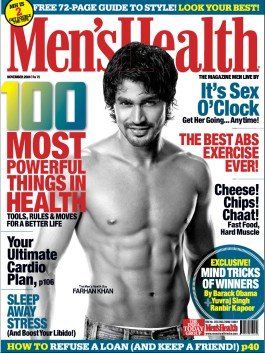 Video and image source: Men's Health India.
Check out these related posts too!
When Extras Become Hotter Than Lead Actors
The Cock-Out Attitude
Hunk Alert