Saturday, March 28, 2009
Labels: closets are for clothes
11 comments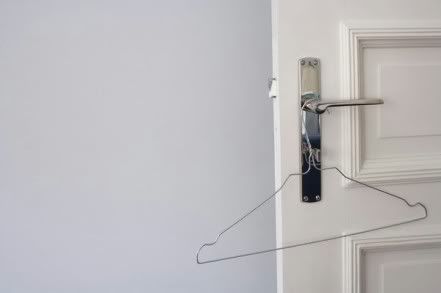 As you all know, last week
I came out to my mother
. I and my mother are fine now. My mother may have a long way to go, to finally be comfortable with all this, but I for one have stopped feeling guilty. I wish to thank you all from the bottom of my heart for your heartfelt responses and support. And especially to Nick for
this sweet gesture
. The following is a clubbing of dialogues that happened between my mother and I over the past few days.
"Ma, can you come to my room now? I need to tell you something."
"Yes, what is so secret about it that you want me to come to your room?"
"You will understand. I don't want father to know. Come fast!"
Also I figured, kitchen could be quite hazardous for what I was about to do. Once we got it into my room, I closed the door. She found it strange that I'm behaving unusual and was giving a half laugh.
"Ma, you may not like what I'm going to say now."
"Is it about your job?"
"No.. something personal."
"A love affair?"
"No Ma. I'm afraid when you hear it, you may even cry. But don't make a big scene and let father know."
Those smiles faded away.
"Yes tell me, I won't cry."
"I know you will, but even then I have to say this to you. But before that let me ask you, are you stiff on wanting grandchildren?"
"Well.. There is no tenacity that I want grandchildren."
"Then what about my marriage?"
"Yes, on that I'm. You need to get married."
"Well.. that's the problem. I don't want to get married.. I'm gay."
She drew back in shock. I could see from her face that she didn't expect this at all. But then she found words to say,
"You could be just feeling that. It must be nothing."
"No ma, this is not just a feeling. This is not something I'm doing on an impulse. I've been thinking about how to tell this to you for a long time."
"So what are you? A man or a woman?"
"I'm still a man. But it's that I don't feel attraction towards gals. I feel that only to guys."
"Is it because of watching all those Friends and Will & Grace?"
"No ma. I had known about this, way before watching those."
"When did you start to feel like this?"
"Well.. way before my teenage. But that time, I used to think that I could be the only one having this kind of feeling. But when I got internet, I realized that I'm not the only one and that I'm called gay."
"So is there someone?"
"No."
(I didn't think it was good to reveal to her that I've slept with some men.)
"Are you sure marriage is not at all an option?"
"Ma even if I do marry a gal, I will not be able to fulfill all her desires. And that is just unfair to her, don't you think so? Since Indians are not open to talk about homosexuality, many guys will be afraid to tell to their parents. So they agree for the marriage and then without the knowledge of their wives, they continue sleeping with men. I don't want to betray someone like that. I can never imagine doing that to a person knowingly. There are many instances of failed marriages because of this. Not getting married is much better than ending up in divorce, right?"
"Yeah, that's true."
"You must be remembering that scene from Honeymoon Travels Pvt Ltd. where the husband confesses to his wife that he is gay."
I wanted her to know that this i-am-so-cool-about-being-gay was not something that I achieved overnight.
"I have always shared everything with you and Pa. But this is something I couldn't, even though I wanted to. When I began to feel attraction towards men, I was first confused. I didn't want to feel that way at all. I couldn't understand what was wrong with me because my friends were crazy about gals and I wasn't. There were times when I had been in serious depression. You and Pa must not have noticed it. But it took me several years to finally accept the fact that what I'm feeling is completely natural."
I then asked,
"Did you ever feel even the slightest of indication that I could be gay?"
"No.. but when your that friend visited... "
"Who?"
"Jay."
"Yeah.. what happened when he visited."
"Well.. I thought he could be one."
"Haha! Jay? Not at all!! He even has a girlfriend. But he knows."
(I guess his metrosexual appearance misled her. He is that same friend

I was talking about in this post

whose coin-slot I got to see. :P)
There was a pause.
"Ma, how do you feel?"
"I don't know. But these people are always affected with AIDS."
"That is just a misconception. Not every gay person could be carrying AIDS. Then what about those who appear straight and married, but continue sleeping with men?"
"But how will you deal with our society?"
"Ma I'm not going on telling everyone that I'm gay. In fact, only very few friends know about this. But don't let Pa know."
"Then?"
"Next year, may be."
Her eyes began to fill up.
"I told you, you will cry. What were you thinking now?"
"Nothing."
"Tell me. I need to know."
"I was thinking about you becoming this way."
"Ma, it is not bad being gay. This is not some disease. It's very similar to some people being left-handed."
I continued,
"Anyways, my worst fears didn't come true. I thought I could be kicked out of the house, in which case I was planning to take refuge at Phoebe's place."
"Oh, I would not be doing all that!"
"Hmm.. I will show you another clip where an Indian guy film himself coming out to his mother."
And I put

the video that I posted here

.
My mother then asks me,
"Do you get attracted to every man?"
"No Ma, let me put it this way. Did you feel attraction to every guy when you were young? No, right? And did you wake up one morning and decide to get attracted to men? No, coz it happened naturally for you. It is the same in my case too, I didn't choose to be attracted to men."
"Then what about your madness for actresses like Aishwarya, Preity?"
"I like their beauty, that's all. But straight guys will feel some other thoughts too."
I had read from one website that during the coming out session, the roles of the child and the parent gets reversed and it really did happen here. By the way, I came across the following video during my Orkut-surfing and I thought it would be great to feature this here. I should probably show this video too to my mother, which enlightens the viewers that being gay is as normal as being straight.
The following video is available in
HQ
(
press

to enable
) which means, you can put it full-screen (
press

) without losing much clarity!
I'm sorry this is in Hindi. For the non-Indian readers, let me give you an outline of what was happening in the video. The first guy, Manish Sharma, came out to the world during an earlier episode of this show, which is called Salaam Zindagi (Hello Life). He says a lot of gays contacted him after that, and he counseled a number of people who were not willing to have a proper life due to family and societal pressures. Manish's family was very supportive. Prior to his coming out, his aunt used to force him for marriage. But when she saw the show, she came to him, gave him a hug and very affectionately told him that she was proud of him for his courage and for not choosing to get entangled in relationships which he would not be able to carry forward.
The second guy is Deepak Kashyap. He is a gay rights activist from India. He quotes the words of

Swami Dayanand Ji

, "If any matter begins to trouble you, then it means that you don't know completely about it or you know the truth, but do not wish to accept it." Deepak says he used to go to temples and churches and scream to God that it was all God's fault. But later he realized that we cannot blame anyone for being gay when he knew that homosexuality was not a medical disorder and that 10 percent population of animal kingdom goes "the gay way" and there is nothing much you can do about it. So he personally believes that he found the truth and accepted it. His both parents too have accepted this truth. His father had told him earlier that, if one is not causing any harm to the environment, to oneself and to others, then we all have the full right to live the life, the way we want. Deepak reveals the saddening fact that 85 percent of Indian gays are married and in that 85 percent, 90 percent are still actively gay even after the marriage. He also feels lucky to find that each and every friend of his had no qualms in accepting him and his sexuality didn't matter to any of them at all.
Check out these related posts too!
And I Came Out To My Mother
The Safe First Step I Took To Come Out To My Mother
Gays And Mothers