Saturday, September 12, 2009
Labels: csb cover specials
4 comments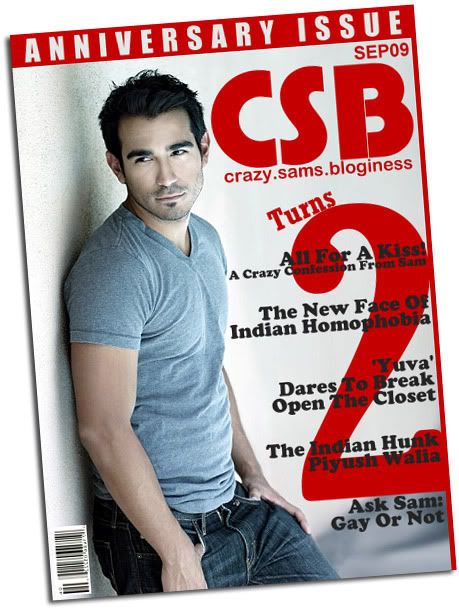 It's been two years and I really can't believe this blog actually survived for this long! As cliched it may sound, this journey became all the more interesting only because I am fortunate to have you readers and I thank you all from the bottom of my heart. A special thanks to
Vee
for

recommending CSB

to his readers.
CSB
had been running a poll for the past few weeks on
"Invitations Of A Different Kind."
I admit that the questions posed were quite quirky, but you guys dared to play along. The poll received 379 responses.

Click here

to get back to the post and see the results. (By the way, if you remember

my earlier poll

, I think it's time that I change my status!

:D
)

That's all for now. My present situation doesn't allow me to blog frequently or type long posts, but I hope that will all change soon. So don't you dare to ditch
CSB!
:P
Other Articles Shown On The Cover:
CSB Mock-up Magazine Cover Done By:

Crazy Sam
Disclaimer:

The guy shown on the cover has no affiliation with

Crazy Sam's Bloginess (CSB)

in any way whatsoever.
Check out these related posts too!
CSB Now Straight-Friendlier Than Ever!
Year-End Special : 25 CSB Posts of 2008 Revisited
1 Year Of... Bloginess