Wednesday, March 24, 2010
Labels: csb cover specials
4 comments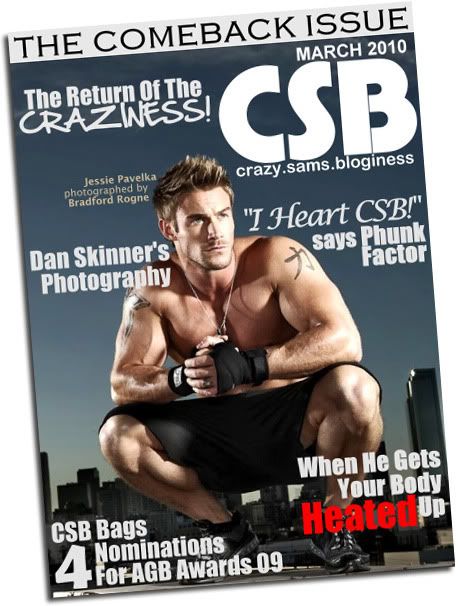 Yes, I'm back! Yay!! Forget everything that happened here during the past few weeks, I apologize if I caused you any confusion as a result of the drama. But it's heartening to see some of you so attached to
CSB
. I'm especially grateful to those who posted comments, sent emails and chat messages trying to show me that
CSB
is one of a kind and it should not be ceased or worse, get deleted.
I'm sure all of you remember our
Phunk Factor
. Finally, he came to his senses and now he has a blog!! Called
Go Phunk Yourself!!
, his blog can be reached at
http://gophunkyourself.blogspot.com/
.
Phunk Factor
had posted two entries here almost two months ago and you can read the further updates on his blog.
CSB Bags 4 Nominations For AGB Awards 2009
In 2008,
Poonam
of
Visceral Observations
came up with the concept of
Avant Garde Bloggies Awards
to recognize and honour Indian bloggers for their contribution to the blogosphere.
CSB
was nominated for five categories then and awared the first runner-up for
Best Courageous Post
. The second season of
AGB Awards
is now live and after tedious elimination processes by Poonam and team, the jury has announced this year's finalists. Out of the finalists, the best gets chosen by a public poll. This year
CSB
is nominated for four categories:
You can click on the above categories to directly reach the poll-site of the respective categories and caste your vote (for me :P). If you like to check out other categories, the finalists and the link to their posts are put up
here
. And to vote for them, the polls are currently live at
http://avantgardebloggies.wordpress.com/
. The deadline is
28th March midnight IST
(i.e., coming Sunday.) So hurry up and act fast if you want to be an influence in the search for the absolute best posts of 2009.
This is the return of Crazy Sam.

Cover Details
CSB Mock-up Magazine Cover Done By:
Crazy Sam
Other Articles Shown On The Cover:
Update - Monday, April 05, 2010:
Check out these related posts too!