Monday, November 17, 2008
Labels: mag addiction
23 comments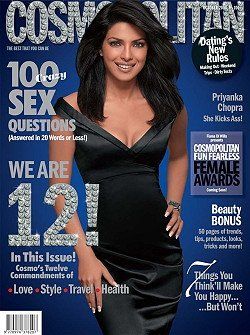 Sam is crazy enough to do anything to get his hands on a Cosmopolitan. And that's a proven fact! Or else instead of going to his nearby bookshop, why would he ride to the busy city railway station, wait in the queue for more than fifteen minutes to get a platform-ticket and hide the Cosmo in a plastic bag and walk out from there as if he had done nothing unmanly?



I haven't been lucky to possess a Cosmo for more than 6 months because that long it has become, since I and Phoebe had a meet. They wouldn't suspect if she showed the Cosmo while paying the cash and she could later hand it to me. Now I didn't have the patience to wait for Phoebe anymore. So I decided to get that darn magazine myself. I didn't want to buy from my usual shops since it would be difficult for me to look at their faces later on. That's why I settled to hit the railway station where it is always crowded and it is not quite possible for the shopkeeper to remember "

that strange guy who asked for Cosmopolitan!

"
After long waiting to buy the platform-ticket, I entered the platform and reached the bookstall. My eyes immediately caught the Cosmo, but I was still wondering how I could ask the guy. Hiding my shame, I looked at him, gave him a hundred rupee note and said, "Cosmo."
"What?" May be he thought I implied something else.
"There! That one! Cosmopolitan?" Now that the cat is out of the bag, I wanted to run like hell from there! I'm sure my face had become a red tomato by then although
his was expressionless when he handed me the magazine. I quickly put it inside a plastic cover.

Mission accomplished!
So why is Sam so hellbent on checking out Cosmo risking his dignity? Let's hear straight from the horse's mouth..
Temptation Unlimited
One would feel that the latest issue is all that is needed to fine-tune your life, dating, sex, work and fashion. But when you see the next issue on the rack, you surely would be tempted to grab that one too!
Eye-candy Galore
Handsome hunks to make you drool. And lots of them! One would begin to worry if you are straining your eyes too much by scanning every single of them as you flip through the pages. You just can't help getting hypnotized!

Decoding Adams
Dozens of articles devoted to puzzling out the most mysterious species that God has ever created - Men. And that's what we gays need. When it comes to dating guys, it's all about how you play it.

Scandalous Confessions
Who wouldn't love to read the hottest and steamiest confessions that Cosmo readers make every month. You would surely want Cosmo to bring out an entire issue featuring this guilty pleasure alone!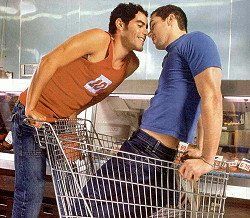 Realize Your Role
Cosmo carries pages that bring life/love/lust - situations and both genders take on it. Early reports from

CSB Labs

indicate that if you tend to agree with most of what a female writer says, you could be passive. And if you frequently find yourself on the sides of the male writer, you could be active (

although not yet scientifically proven!

).
Saviour Of The Gaykind
Most of Cosmo's suggestions can be fit for the gay crowd. But remember, I said "most of." You don't want to end up like a macho trapped inside a lady. It's better if you turn a deaf ear to fashion and beauty tips.

Improve Your Vocab.. In Style!
Are you one of those people like me who doesn't have the patience to read long novels, but also want to polish your English? With Cosmo, you are guaranteed to discover new chic words from their peppy but simple writing style.
Any other cosmoCatch that you guys feel like sharing? Post your thoughts coz it might end up here!
Check out these related posts too!
Stale But Still Hot!
The Cosmopolitan Tales