Monday, July 27, 2009
Labels: slap homophobia
3 comments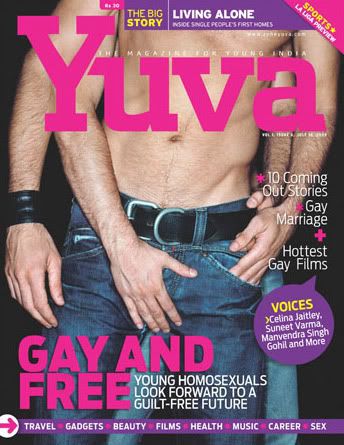 No people, it's not the cover of a magazine targeted towards the gays or not of one which is published from a western nation (
or not even a mock-up cover that I designed, for that matter
), but that of one which is rapidly becoming popular among the youth of India.
Yuva
, with the tag,
"The Magazine For Young India"
, have put the topic of homosexuality as the cover story in their latest issue. This is a very daring attempt, I must say, and that too for a mainstream magazine which is just three months old (the new format.) But even more daring is their homoerotic cover that shows a guy placing his hand over another one's crotch.
The cover story throws light on the hardships faced by gay men and lesbians in India, their self-realizations about being gay, their experiences on coming out, the reaction they got from their parents and how the overthrowing of section 377 can bring a better change. It was heartening to read about a father and mother who, despite being religious and coming from a conservative background, helped their gay son to come out and encouraged him to bring his boyfriend to home. The article carries the voice of people from various fields raising their opinions on the need for putting anti-discrimination laws at public and workplaces, laws against homophobia, rights to fight against forced marriages, and the fight for gay marriage, inheritance laws and adoption rights.
The poll conducted by Yuva reveals that 79% men and 86% women have no objection for the legal sanctioning of same-sex marriage.
Yuva
has listed a bunch of helplines for those who wish to come in terms with their homosexuality and also suggests a string of gay and lesbian movies to check out, gives a peek into the country's popular gay hangouts without actually 'outing' them and enlightens us with a section on gay lexicon, in which some of them, I admit, even I was not aware of!
Yuva's
message to the young India is loud and clear - It's about time that we all woke up, faced the reality and accepted this 'sweet' truth that India is no exception when it comes to people being gay. Even if the older group doesn't get it, I'm sure the generation that is coming up and the future ones will embrace this fact of life and will be more tolerant and understanding towards the LGBT community. Also it is my wish that the division of straight and gay communities becomes blurred
as years pass by
.
CSB
had recommended Yuva
to its readers earlier this month and this could be the only magazine in India for the youth that is not just centered on fashion and lifestyle. Executive Editor,
Diane Karen Pereira
said
during one of the pre-launch interviews
, "The market has no such magazine that caters to the youth's needs. There are several lifestyle magazines, but there is no such magazine that can raise issues concerning the youth, who can provide the young reader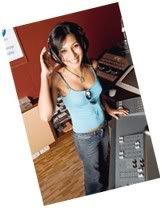 with the information that he or she can use, who can tackle the issues and questions that are on top of the mind of todays young."
Indeed, they cover a spectrum of youth-centric topics. I reckon, especially their career section would be a lifesaver for many young Indians helping them to think and choose wisely when opting for courses and from where to pursue.
So head to the newsstands folks! This fortnight's issue is one which you definitely don't want to miss! I'm now eagerly waiting for their next issue to come out where they would be publishing responses from the readers (shoot emails to them, thank them!) and
I feel
we could also get to read about
Bani
, the cool
MTV Wassup
babe!
Check out these related posts too!
Why Cosmopolitan Is For The Fun Fearless Gay Male
Stale But Still Hot!
The Cosmopolitan Tales