Wednesday, November 5, 2008
Labels: slap homophobia
19 comments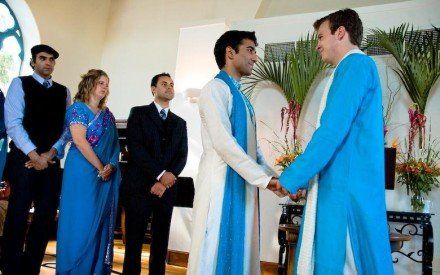 If anyone asks me whether I see myself involved in a relationship with a guy ten years from now, I would promptly say, "Yes!" But do I see us married? Although I wish our relationship to be solidified by a marriage, I will not be as confident in saying a "Yes" as I was in giving the previous reply.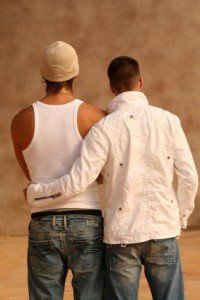 And why? Let's face it, men have serious issues when it comes to commitments and marriages. I would say, most of the times, man is the troublesome ingredient in a relationship. That is why I consider the working out of lesbian relationships and marriages is just a piece of cake when compared to straight or gay ones. So if two men (
sorry ladies, I'm taking the extreme case
) decide to get married to each other, don't you think they must have put so much love and effort in their relationship that they are now comfortable in taking the next big step? And if you wish to take away their right to marry, don't you think you are just choosing to be blind by disregarding their love? If you say marriages are made in heaven, why do you want to go against the union of two souls on earth? Or is your marriage so vulnerable that a gay marriage in the neighbourhood can lose the sanctity of yours? If that's the case, don't you think yours was the one that should have been stopped from happening?
I know we Indians have a long way to go in demanding our right to marry the one we love, when we are currently fighting for decriminalizing homosexuality in India. But I really don't understand the big deal in allowing two consenting adults in relationship to marry. What loss will the others face if a man weds a man or a woman weds a woman?
They raise the opinion that if today we allow gay marriages then tomorrow what will happen when someone wants to marry his or her dog! First of all, I would say all those who support this concept do not possess the common sense even of a fifth grader and they seriously need to get their goddamn mind cleansed! And secondly, dogs deserve more respect than them because at least they are loyal and they don't preach to hate. Then they want to pose the question that if today marriage between same gender is allowed, what would tomorrow's textbooks teach children about marriage. Again I'm asking, what is so bad about making the next generation realize that it is A-Okay to love and live with the one whom your heart desires for.
You can see how crucial the issue of gay marriage is when bloggers like
Nathan
say,
Gay marriage IS still important. It will always matter to me, because I will always be gay and Rodney will always be my partner. I will always want us to be married. And every year when my taxes roll around, I'm so coldly reminded once again that even though I pay the same amount of taxes as everyone else, I still have to check mark "Single" when I file them. In the eyes of America, this union doesn't even exist, even though Rodney and I will be coming up on our 8th anniversary.
If you still can't get it, I guess the following video is the last resort in injecting some sense to you.
By the way, thanks Amit for discovering this video.
I know for us Indians, these issues may not be of major concern now. But it would be wise to realize that in future we would also be trotting down the same road!
Update - Wednesday, November 05, 2008:
Wanda Sykes
is so wickedly funny in
this video
where she talks about how ridiculous it seems when people want to go against gay marriages instead of minding their own business. Thanks
Nick
for the link!
Update - Wednesday, November 12, 2008:
In
this video
,
Keith Olbermann
gives a powerful message to all those who supported
Proposition 8
.
IF YOU VOTED 'YES', YOU SHOULD BE ASHAMED!
You say you don't want to redefine marriage. How would you feel if black people couldn't marry white people? Or even worse, black people couldn't marry black people!! Because, there was a time in America when laws prohibited such marriages, similar to the one that is now existing that forbids gay marriages. And all because you voted 'Yes'.
Thanks
Closetalk
for informing me about this video and
Eliot
for hosting it on your blog.
Check out these related posts too!
The Gay Parade And The Media
Curing Homophobia
Is Internet Becoming Homophobic?