Sunday, July 6, 2008
Labels: slap homophobia
18 comments
Last Sunday, India witnessed an event that was huge (
really huge!
) for the Indian LGBT community - the first ever gay pride parades happened on the streets of Delhi, Calcutta and Bangalore (

although Calcutta has been having small parades since 1999.

) I'm happy and proud to see that many of us have got the balls to finally demand equality and to show our resistance towards IPC Section 377 openly. This could help many to see that the so called "homosexuals" does not necessarily imply that they are
hijras
, transexuals or crossdressers. This could also help them realize India too has a large population of homosexuals and homosexuality is just not a
western phenomenon
.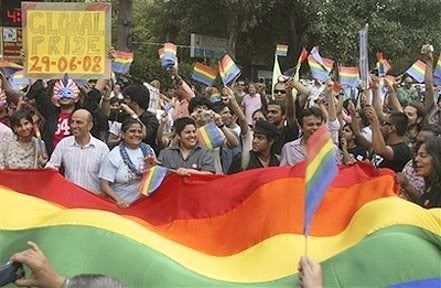 'Rainbow Pride Walk' in New Delhi on June 29, 2008. Photo courtesy: AP.

But media can be a bitch sometimes.
They have their own convoluted methods to twist the reality and present the facts to the world based on what can attract the audience
.
This is how the report from Associated Press started:
Men wore sparkling saris, women wore rainbow boas and hundreds of people chanted for gay rights in three Indian cities Sunday in the largest display of gay pride in the deeply conservative country where homosexual acts are illegal.
Men wore sparkling saris? What The Hell!
Did the writer
not see any men other than those wearing saris?
(
Yes, I'm talking to you Mr. Sam Dolnick!
And the photo above is from your team itself!

)
Is he trying to report what the people want to read or is he himself so ignorant to have such a narrow outlook or what! This is like the western media trying to showcase India as a country of elephants, snake charmers and gurus. And thanks to those numerous sites for copy-pasting this report thereby propagating the same words and also insuring that still larger number of readers see whatever stereotypical image they had were indeed true!
The TV media is not bad either. All of them are so hellishly dedicated to push the same stereotypical image into the minds. Let me ask you, are you guys trying to enlighten the viewers or trying to be
bollywoodish
by showing gay men as crossdressers and feminine? We are talking about enlightment here. We are talking about eradicating the misconceived notions that one associate with gays.
Not
all
gays are:
- HIV positive.

- Feminine.
- Crossdressers.
- Transgendered.

- Guys who feel like they are gals trapped inside man's body.
- Perverted to force sex with a straight man.
- Having it easy as you see in

Dante's Cove

.

- Fashion conscious! (
:P
)
So next time when you hear about gays, would you please try to picture these images too? (

If you are reading from email or using feed reader, please access the site to watch the slideshow.
)
Please note that I have nothing against transgendered and crossdressers. I

believe in equality and there should be no discrimination based on the race, ethnicity, colour, sex, religion, caste, language,
sexual orientation
and whatever lame divisions that narrow-minded people can come up with.



Check out these related posts too!


The Right To Do "I Do"
Curing Homophobia


Is Internet Becoming Homophobic?