Monday, July 6, 2009
Labels: blah blah
5 comments
Breaking News: A month thus goes by where CSB didn't see any new post, first time ever since its inception!
Haha, I know I'm announcing it as if it is some commendable achievement. Honestly speaking, I wanted at least one post to be up during June. Sadly, that didn't happen. And now I feel like I lost the touch to blog. Don't worry, this is not a good-bye post even though I did see a possibility of that happening. But you know what? I love blogging too damn much to do something terrible like that. Also I don't want my readers to realize how serene their life could be if they did not have their

"irregular dose of samminess"

(as

Whippy

puts it.

:P

)
At last I'm moving out from my city.. Yes! Finally! If you had been following

(stalking)

my blog for quite long, you would know how much I wanted something like this to come about. And I'm gonna be based in one of the happening metros of India - just what the doctor prescribed for spicing up

my unfabulous social life

. But as they say, I can't have the cake and eat it too. What I would be sacrificing are the luxury and the privacy that I am so used with at home. But then if it gets compensated with oodles of mind-blowing sex, I don't mind.
Anyway, I should find some good internet cafes to satiate my online escapades. I recently discovered how convenient and feasible it is to post on

twitter

from mobile and the best part is I don't have to rely on the cafes.
I'm sure by now all must have heard about the recent Delhi High Court's judgement to amend Section 377 of the IPC and decriminalize private consensual sex between adults of the same sex. Even though the new rule cannot be implemented immediately,
(coz the parliament now needs to take decision to amend the law and we can also expect religious fanatics and the so-called Indian-culture-saviours moving to the Supreme Court to revoke the High Court's judgement)
with the debates and discussions happening in news channels and the editorials and features coming in newspapers and magazines, Indians are exposed to the topic of homosexuality like never before.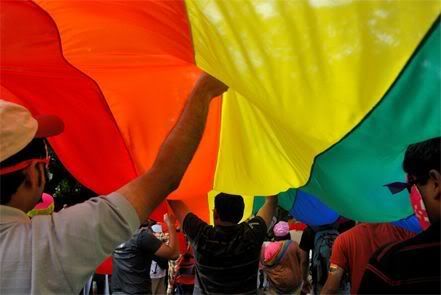 A shot from gay pride parade at Bengaluru on 28th June, 2009.
Photo credit: Lighttripper

By the way, India also gets a new national gay and lesbian magazine.

Pink Pages

is an online magazine which is free to subscribe. Without sounding too swellheaded, lemme also add that I was fortunate to have the opportunity to design the logo as well as the cover for this magazine. I thank the Editor-In-Chief of

Pink Pages

,

Nipun Goyal

for motivating and pushing, and for having complete faith in me. For those who haven't heard about

Nipun

, he is a writer and gay activist from India and it was he who wrote the article,
"Love Me For Who I Am"
, which appeared last year in
The Times Of India
. He also maintains a blog called
Rainbow Rays
. Head over to
http://www.pink-pages.co.in/
for the very first issue of
Pink Pages!
From this month's Men's Health India:

The NGO

Humsafar Trust

says the number of gays, lesbians and transgenders in India is close to

70 million

.
Sam recommends:

Check out the latest entry into print magazines targeted towards young India,

Yuva

- a fortnightly. You can also read the previous issues at their
site
.
Check out these related posts too!
How Out Is Your Underwear?
This Is Crazy Sam Reporting For CSB
The Blah!