Friday, September 12, 2008
Labels: csb cover specials
18 comments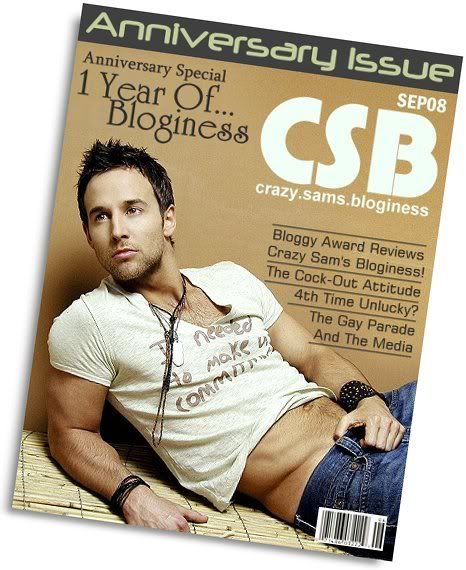 You all were wondering what the countdown was for and now you know! On September 12th 2007,

Crazy Sam's Bloginess

had its humble start with

this post

. Unlike the usual, it wasn't a

first-posty-introductory

one. This was because, this blog was actually a sequel to my earlier blog. That one was born at a time when I was frustrated and confused of being gay. But by God's grace, I was blessed with a bunch of friends (

some of whose words you can see on the second row of the middle column

). I have no words to describe the effect they had on me, making me easy about my homosexuality, wiping out whatever guilt I had.

And this blog represents the confident Sam and if you have read that first post, you will see that I was even taking chance of attending a gay party! I'm totally comfortable about my sexual orientation that I surprisingly have no hesitation to tell my parents that I'm gay. But I know although I'm ready, my parents aren't and I don't want to give them a shock. Some times I wish I had an elder brother and I would have come out to him by this time. My parents would have been also fortunate to see the wedding of at least one of their sons.

Anyways, to celebrate this one year of

bloginess

, I'm thrilled to flaunt the blog's new attractions.

Crazy Sam's Bloginess

now runs on a faster-loading template. Now the blog's banner responds to your clicks taking you to the home page.
And as you can see, the banner-image has changed - a more daring one! And I chose the earlier banner photo for the mock-up magazine cover so that I could finally reveal the face of this gorgeous body.

And who is he?

Nick Beyeler

is not a stranger at all for the gay community as he has given us so many enticing shots in which he wore almost nothing. Nick is a world aerobics champion, cover model and an actor. For those who are interested to know more about him, you can

click here

for the

droolishious

pics and the interview he gave to Ohlala Mag. Thank you Nick, you've been a wonderful bait to lure readers to this blog. Let's hope the new guy is equally "skilled"!

I'm really excited to show off the new addition -

CSB Random Video

, which you might have noticed at the top right corner.

CSB Random Video

features
music videos, gay-centric ads,

gaylicious

clips, fashion shows, movie trailers... anything that I think is cool to share with my readers.
Over 100 videos are added (

and I will be adding more!

) which will be shown randomly each time when you refresh the page or click the blog's banner.

A new badge is now available if you want to link to this blog in a "

sammish

" style. This blog will now be able to be read in 8 more languages with the Google translator widget. So don't hesitate to check out all these cool additions and let me know your opinions.

I thank everyone of you from the bottom of my heart for making this journey so fascinating. And let me take this opportunity to express my gratitude to

Pepe

for being an ardent reader of this blog from the very first post.

Also special thanks to the following techies for their generous contribution to this blog.

Other Articles Shown On The Cover:
Bloggy Award Reviews Crazy Sam's Bloginess
The Cock-Out Attitude
4th Time Unlucky?
The Gay Parade And The Media
Update - Wednesday, April 1, 2008:
The banner is changed and
CSB Random Video
is no longer hosted.
Check out these related posts too!
Crazy Sam : Up-close & Personal!
How To Turn-On Sam : Nine Sure Shot Ways!