Tuesday, July 1, 2008
Labels: csb cover specials
12 comments
When we proposed the idea to him, we were hoping that he would not fire our asses. But to our relief, nothing of that sort happened and he was more than excited to do this. So here's one that you definitely don't want to miss when this shy guy uncovers some of his hidden facts to CSB readers as we get up-close and personal with the one and only

Crazy Sam!
Crazy Sam's Bloginess:
I noticed that all your books however old they are, still looks brand new! You buy and then don't read them at all?
Crazy Sam:
I do read them. But I'm quite neurotic when it comes to keeping them look good. Well.. the Sam 10 years younger used to be completely opposite, you would never have guessed those pages once belonged to a book. Then this sudden craze for preserving them look new hit me and there was no turning back.
CSB:

We know that you are quite fascinated by trains. Tell us about that.




Sam:

Yes, in fact I'm insanely crazy about them! There is something so majestic and mesmerizing about them that I would stop my bike or car to just watch them passing by. When I was kid, I always used to get train toys for my birthdays and they even bought me a train cake for my 5th birthday.





CSB:

Oh, That's really sweet.




Sam:

Yeah I still look at that snap where I'm grinning proudly with my delicious train cake.



CSB:
I definitely gotta ask you this. Is it true that you don't hug people?
Sam:
I don't have anything against hugging. In fact I so wish to hug and be hugged. But something in me always tries to stop me. May be I feel insecure. It's weird, I know. I guess I might have a wider personal space and may be more concerned than Americans.
CSB:
This should have caused you worries during your dates.
Sam:
Can't call them as dates. But yes, panic attacks were plenty!
CSB:
You used to have a phobia towards long-haired guys.
Sam:
Yes, I did. As much I knew this was all too silly, I couldn't help feeling that way. In the end, I too grew the hair. That's how I got rid of the fear. Now whenever I see any long-haired guy I would say in my mind, "Hmm.. he thinks he can scare me with his long hair, but does he know that I too had that once? Huh! And he is flaunting it as if no one else has!"
CSB:
What's that one place you are so dieing hard to be?
Sam:
Amsterdam! I heard that everything about sex is legal there. It's not like I wish to have wild orgies or anything, but the thought of possibility excites me. Plus those Ammie boys are really cute!
CSB:

What's the weirdest place you have ever been?




Sam:

How about the bedside-floor while two guys are going at it on the bed??





CSB:

Oh my God! How did that happen?!!




Sam:

Well let's say, three gay friends having fun hanging out, didn't realise the time passing by. It gets awefully late to knock at home, so decides to take a room. One guy was naive and didn't see what was coming. After some fun talks on the bed, things started to
get

hansy-pansy

and this guy finds it uncanny and opts to take refuge on the floor.

Next question!!
CSB:
Sheesh!! Oops! uh.. OK, so have you ever had feelings for a gal?
Sam:
Yes, during my higher secondary. But I didn't have the nerve to tell her, so I told one of my classmates about this and the whole god damn school came to know! And as an epilogue, that's when I received the info that another gal was having crush on me. I was quite surprised to know that revelation! Finally when the dust settled, I ended up having neither of them.
Please note that this does not mean that I am bi, coz now I am pretty sure where I stand.
CSB:

Is it true that one time you were about to come out to your mother unknowingly?




Sam:

Well.. now when I think about it, it is actually quite embarrassing. I believe I was 9 or 10 then, and I was super horny even at that time. I couldn't figure why I was like that, so I went to my mother and almost asked her, "Mommy mommy, why my little willie is not staying little when I see guys in those underwear ads?" But thankfully, that conversation never happened!
CSB:
Whoa! That could've been quite a shocker for your mother.
Sam:
Yeah, it still gives me shivers when I think about it.
CSB:
Finally, who all are your porn star crushes?
Sam:
Haha! Lukas Ridgestone definitely. He has got an amazing body, drool worthy
ahem..
and a butt to die for! And I could just melt in those blue eyes!! I find Michael Lucas hot too and some of those guys from Randy Blue and Sean Cody.
CSB:
Would you accept the offer if you get a chance to

do

with them?
Sam:
NooOO!!
I'm a well-raised guy, you think I would do something like that??
CSB:
Well.. er.. yeah.
Sam:
You are friggin' right! I would grab that offer within the blink of an eye! Funny that you had to even ask that!



Other Articles Shown On The Cover:


Have You Got What It Takes?
Gays And Mothers
Curing Homophobia
Stale But Still Hot!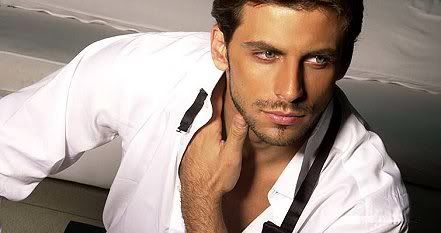 For those who still haven't got it, this was a response to a tag! I was tagged by

Pepe

where I was required to jot down ten things about myself. That's why you got to read about..

1. My obsession to keep books brand new.
2. My fascination for trains.
3. My outlandishness towards hugs.
4. The phobia I had for long-haired guys.
5. The place I want to be.
6. The place I do

not

want to be!!
7. My brief crush towards a gal.
8. The awkward conversation that nearly happened with my mother.
9. My porn star crushes.
10. My desire to be in porn (

only if I'm paired with Lukas or Michael!

)

So now let me start tagging 10!
The rules are simple!
1. Bloggers need to write about 10 things of themselves.
2. Tag 10 people and comment on their site that they are tagged.

Have fun. Muaah!



Check out these related posts too!




How To Turn-On Sam : Nine Sure Shot Ways!