Saturday, March 14, 2009
Labels: music is god
7 comments
Many a times, I have found myself awed by certain background scores that not only enhance the effect of the scenes, but also makes you go through the emotions felt by the characters. In Mani Ratnam's

Guru

, when
Shyam

proposes to

Meenu
, a beautiful song whispers by and you feel

Meenu

's hapless situation being a victim of multiple sclerosis
and the true love

Shyam

has for

Meenu
. We can hear this song again in the movie during
Meenu's

passing
. But sadly,

Guru's

audio CDs didn't have this soulful track and the web pages that time talked about a beautiful song sung by Soumya Rao and another one, failing to get released to the public. Why? Because Mani and Rahman decided not to include them in the CDs. (

FYI, they did a similar thing with
Alai Payuthey
's catchy number,
"Enrendrum Punnagai"
and it's slower version,
"Mangalyam"
in 2000. I hope they don't play this kinda game again in their upcoming
Raavana
.

)
Now I know Soumya's song is called
"
Shauk Hai"
, thanks to
Jo
. It seems,
"
Shauk Hai"
was later released in an another album, "Greatest Hits Of A.R.Rahman."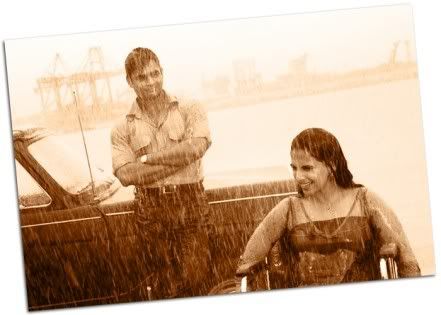 Shauk Hai:
Press the play button to listen to this gem. (

If you are reading this post from your inbox or feed reader, please access the site.

)
Lyrics and translation can be found
here
.
Also, following are some Indian musical sites that you might want to try out:
For all Rahman fans out there, Serjas'
Rahmanism
, a blog (

I can't believe that it is built from Blogger!

) which features nearly anything and everything that Rahman has composed so far (

even jingles for ads

), will surely satisfy your appetite.
Suresh Kumar's musical blog,
Background Score
is one of a kind where he gives an in-depth analysis on background tracks from Indian movies. He also maintains another musical blog,
Yours Musically
.
And at
Songs Of Jo
, our Jo, who is a blogger, singer, composer and podcaster, does covers for popular songs and comes up with his own creations.
PS: By the way, can anyone recognize this superb track?
If you can, please send me the details (title, album and composer) coz I'm absolutely in love with this one from the moment I heard it at a fashion show in our college five years ago and since then I'm trying to get its complete version. Thanks in advance.
Check out these related posts too!
The Crazy Sam Musical