Thursday, June 5, 2008
Labels: for your eyes only
14 comments
Yes! That's right!! Because what you are about to see will truly fill your appetite.
Dolce & Gabbana
brings to us, what I think is an 'American Indian meets the urban style' kinda deal. I'm sure these gorgeous guys will set your minds on fire as you see them walk the ramp. So here we go!
Whew! That was more than I could handle. Err.. I have a doubt, you also felt that those guys were going commando? LOL! Couldn't help asking that!!
I especially loved those shoes, weren't they cool! And Phoebe is crazy about guys who wear shades. So I know she must be now trying to catch her breath. Haha! How I wish I were in the fashion line so that I could be eye to eye with all these hunks. Phoebe says I should become a designer, after all I qualify an important criteria - be gay. LOL! But I have the most hapless taste when it comes to fashion while I see many straight dudes carrying off trendy gears. According to her, she has seen works of the so-called "professionals" whose creations are not only horrendous and overpriced, but if worn, they could bring the whole damn traffic to halt. Hell! Forget about the traffic, they could even stop any UFOs if they were passing by! Haha! She can get quite funny whenever she tries to validate her reasons. Well.. what I wish to become is that guy who gets lucky to shoot these sexy studs..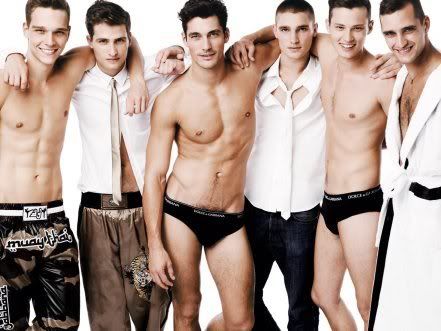 Yeah.. The photographer dude. I should have taken some course in fashion photography instead of clinging to this drab engineering! Sigh!
P.S.
From this post onwards, if you click on the picture you get the large high resolution version opened in a new window. So why don't you try the above pic!
Check out these related posts too!
An End To A Video - Quest
Men N' Music