Sunday, September 23, 2012
Labels: csb cover specials
6 comments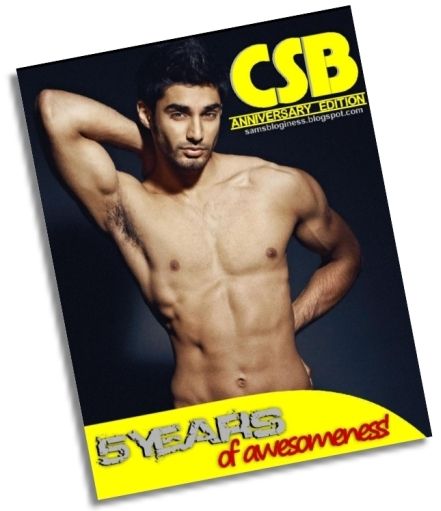 Yes, this time the deal is for real. This is not another mock-up CSB cover, but an actual CSB magazine which you can flip through! I have always wanted to try out how CSB would look like in a magazine format. The idea has been haunting me for more than a year, but then time and circumstances didn't seem to be apt for such an exhaustive project... until now. When I began this endeavour, I knew this would be a time consuming affair, but I didn't expect it to become this mammothian task. But now I'm glad to see that it is finally done and here it is for your reading pleasure!
As I always say, my blog is my baby and it brings out the best of creativity in me. Over this past five years, with the continued support of thousands of readers and subscribers, CSB has evolved into much more than a mere personal blog. It became the voice of many who wanted to resist the continued stereotyping and misconception regarding gay men. It became a platform where distressed guys reached out to realize that they are not alone and found connect with its articles and readers. It became a destination where straight community could visit and understand what actually goes through someone they know who is gay. It has also become a credible source of unbiased information - I was pleasantly shocked to see Wikipedia articles giving reference to CSB while stating facts of personalities for the reason that they have directly interacted with CSB.
I hope you guys enjoy flipping through and reading this Anniversary special edition of CSB e-magazine, as much as I enjoyed making it. Special thanks to Ronald N Tan for sharing his exquisite works, Shobhna Kumar and Billy Graham for taking time out to interact with me, Danny Rose and Harrish Iyer for penning their encouraging thoughts on CSB. I also wish to express my gratitude to my blog buddies Jits, Derric and Phunk for always considering CSB as an important part in their lives.
And how can I forget CSB readers?!! You are the real reason which pushes me and drives me to express my thoughts, and I really do hope you will continue showering your support. Happy reading, I would love to hear your feedback!! ;-)
Check out these related posts too!
The Return Of Craziness
CSB Turns 2!
CSB Now Straight-Friendlier Than Ever!